Click image to zoom in.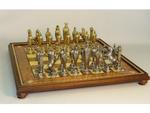 Click image to zoom in.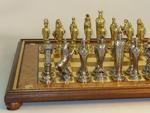 Renaissance Metal Chessmen with Elm Burlwood Chess Board
Item#:4307
Reg. Price: $1,180.00
Sale Price: $950.00
Chessmen: Italian Renaissance Metal chessmen, King height 5.5", all pieces are felted. Chess Board: Elm Burl wood chess board 22x22x2.5 inches, gold metal trim, 2 inches squares.
King:
Height:
5 1/2"
Base:
1 1/2"
Board:
Square:
2"
Width:
22"
Length:
22"